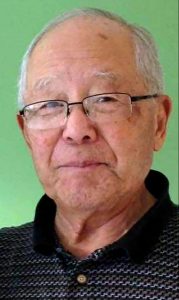 Hiroshi "Roy" Tahara of Kamloops, BC passed away peacefully, surrounded by his family, on April 28th, 2022 at the age of 87.
He is survived by: his loving wife of over 55 years, Marie (Nee Tremblay), daughter: Nadia (Clint) of Kamloops, grandchildren: Skyler and Victoria (Christian) of Kamloops, sister: Toyoko of Kamloops, brother: Masanori (Rosemarie) of Kamloops and many nieces, nephews and extended family all over Canada and Japan. Roy is predeceased by mother: Kikue Tahara (nee Nishikawa), father: Toyotoshi Tahara, and  brothers: Toshiyuki Tahara and Katsuaki (Tom) Tahara.
Roy was born on January 27, 1935 in Ruskin, BC. In 1942, he was then placed in internment camps in Sandon and Lemon Creek. He moved to Japan in 1945 where he lived until 1950, when he and his younger brother traveled back to Canada to work on his uncle's farm in Vernon, BC to earn money to bring the rest of the family home.
Roy moved to Kamloops in the 60's where he worked his way up from a Bell Hop to Bar Manager at the Plaza hotel. He met the love of his life in 1967, a cute little French waitress who worked at the Commodore Café. They were married in 1972 and their only child was born in 1975. He then worked as a bookkeeper for many years until his retirement at the age 70. (He LOVED to work!)
His greatest joy in life, after golf, were his two grandchildren.
A special thank you to the incredible staff at Brocklehurst Gemstone Care Centre.
No service, by request.
In lieu of flowers, donations can be made in Roy's name to the Kamloops Buddhist Church, 361 Poplar St, Kamloops, BC V2B 4B9
Condolences may be sent to the family from
www.kamloopsfuneralhome.com
250-554-2577